HeadsUp! game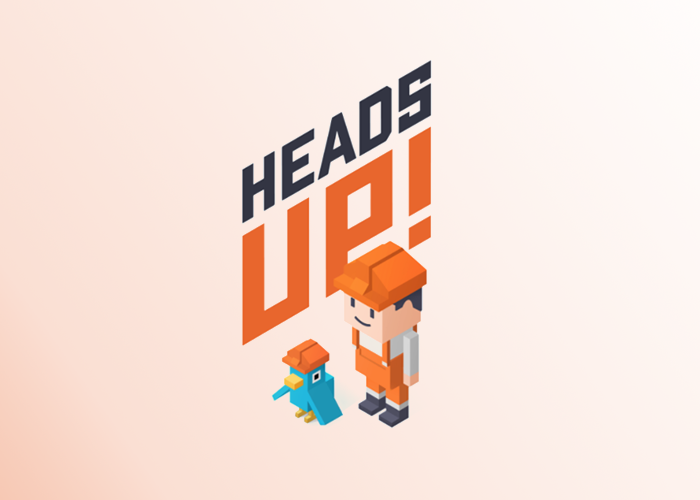 HEADS UP! – because life is not a game.
Dodge all dangers and play it safe in your new job at Mondi – one of the world's leading packaging producers. Check permissions, drive a forklift, do not get caught by rotating machinery-parts, beware of heavy loads, repair the power-lines, keep an eye on the glue and don't get eaten by the bear!
Mondi – HEADS UP! Is a fun approach to safety precautions in work-environments and free to play for everyone.
Play every game and earn as many points as you can, but don´t forget to think about the safety rules. Take care, because life is not a game.
HOW TO PLAY:
1.) WORKING WITH PERMITS: There are different items required in different work-places, such as vests, helmets, goggles or gloves. Does your colleague wear all the required items? Check and decide by tapping on the correct button.
2.) OPERATING MOBILE EQUIPMENT: Handling mobile equipment in a working environment requires a lot of concentration. Tap on the buttons to break or accelerate in order to avoid possible accidents!
3.) ENTERING CONFINED SPACES: Working in confined spaces can be very dangerous – especially when the light goes out. Memorize your path and find your way in the dark by tapping on the navigation-buttons.
4.) WORKING AT HEIGHTS: Better to be safe than sorry, especially while working at heights. Estimate the distance between the shelves and adjust your bridge by tapping and holding.
5.) ENERGY AND MACHINERY INSOLATION: Current and electricity are not a good mix. Repair the circuit by tapping on the connectors before your time runs out.
6.) MOVING AND ROTATING MACHINERY: You need to take care in the work place, because machines don't. Dodge all dangers by tapping on the navigation buttons.
7.) LIFTING AND MATERIALS HANDLING: What goes up must come down. Release the crane-load by tapping on the screen when it's above the stack.
8.) HANDLING HAZARDOUS SUBSTANCES: Don't fool around with chemicals. They might react violently. Keep the glue at the right level by tapping on the screen.
9.) WORKING IN FORESTS: Forests are dangerous. There are falling trees, obstacles and wild animals. Avoid all harm by tapping on the navigation buttons.
Download
Google Play: https://play.google.com/store/apps/details?id=com.Mondi.HEADSUP
Apple App Store: https://apps.apple.com/us/app/mondi-heads-up/id1502171768